Cooperative Program of the Southern Baptist Convention
At First Baptist Church we proudly support the Cooperative Program of the Southern Baptist Convention. This means that we choose to affiliate ourselves cooperatively with the Southern Baptist Convention.Cooperative Program
The Lawrence County Baptist Association of Churches – includes 28 churches that fellowship together and work together to reach Lawrence County for Christ.
The Missouri Baptist Convention of Churches – includes 63 Baptist associations (+1900 churches) state wide that fellowship together with the goal of evangelizing our state.
The Southern Baptist Convention of Churches – includes 42,000 churches that cooperate together in a world-wide effort of missions.
Our involvement in the SBC affords our church participation in the largest missionary organization in the world. Through the SBC "Cooperative Program" we help support over 10,000 missionaries in 104 countries around the world.
Two special opportunities to give to missions:
Annie Armstrong Easter Offering – North American Missions supports 5,081 missionaries.
Lottie Moon Christmas Offering – International Missions supports 5,444 missionaries all over the world.
Grace & Peace Gals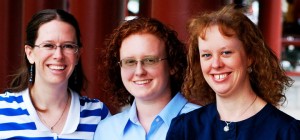 At First our desire is to support individual missionaries as well as the Cooperative Program. In October of 2010 the people of First chose to support "The Grace & Peace Gals". These ladies work through the Mission called The Hard Places Community which deals with Sex Trafficking in Cambodia. The people of First are very excited about this new opportunity of supporting "The Grace & Peace Gals." If you would like to keep up or even contact "The Gals" there are three ways listed below:
Email: graceandpeacegals@gmail.com
For monetary donations, checks may be made out to First Baptist Church with "Grace & Peace Gals" written in the memo.
The Grace and Peace Gals are partnering with Agape International Missions (AIM) ministering in the field of anti-trafficking in a village outside of Phnom Penh. This village is known as a community with a pervasive amount of child sex trafficking. In 2011, AIM opened a school in Svay Pak with the purpose of providing a quality education and giving students, who are at-risk for sexual exploitation, a safe place to learn, to grow, and to dream for a future. The local Cambodian church partners with the school and is heavily involved in trying to transform this community with the power of the Gospel.
The school, staffed by young Cambodian Christians, is still very young and in need of continued development. The Grace and Peace Gals train the Cambodian teaching staff and develop relationships with children and their families. They are working to equip, build up, and expand the school. The school now has three kindergarten classes and offers English classes for the community, with a total of 300+ students.
Tri-County Pregnancy Center
The pregnancy care center is located at 316 South Madison Avenue in Aurora, MO. The services are free for women in an unplanned, untimely or unwanted pregnancy. The center is funded through donations of churches, individuals and businesses and doesn't receive funds from the state or government.
To monetarily donate, mail your gift to P.O. Box 107, Aurora, MO 65605. To donate items such as baby clothes, maternity clothes or baby items, call the center at 417.678.0090 or drop the donations by between noon and 5 p.m. on Tuesdays and Thursdays. To volunteer time as a mentor, receptionist, etc., visit the center for an application. To have client contact, volunteers will have a required background check.
Website: www.tcprc.com
Email: tricountyprcswmo@gmail.com
Phone: 417.678.0090
Mailing Address: PO Box 107, Aurora, MO 65605
Baptist Hill Assembly
The purpose of Baptist hill is to provide a suitable setting to win hearts for Jesus, disciple believers and train servants. Baptist Hill sets back in the rich timber setting of the Ozark Hills. We are located 30 miles west of Springfield, MO, outside the small community of Mt. Vernon. Big Spring, a huge attraction for many, runs around the entire perimeter of the camp. Its flowing water makes for a great day of canoeing or hiking. Rebel's Bluff, another historical site, is adjoined to the acres of wildlife-filled hills and bluffs that encompass the camp facility. Spring, Summer, Fall or Winter, there is no time of the year that you will not find Baptist Hill a peaceful and captivating place. A hidden treasure of simplicity and character, this camp has drawn many, near and far, to be embraced by its spiritual aura felt upon entering its gates.
Website: baptisthillassembly.com/
E-mail: baptisthill1@aol.com
Phone: 417.466.3034
Mailing Address: PO Box 491 – Mt. Vernon, MO 65712