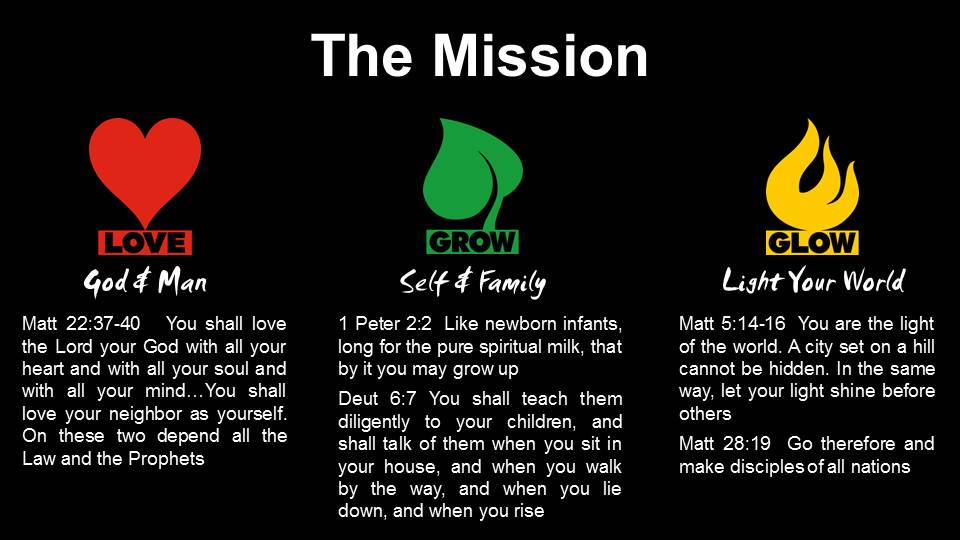 The Mission
LOVE– God and Man
Matt 22:36-40 36 "Teacher, which is the great commandment in the Law?" 37 And he said to him, "You shall love the Lord your God with all your heart and with all your soul and with all your mind. 38 This is the great and first commandment. 39 And a second is like it: You shall love your neighbor as yourself. 40 On these two commandments depend all the Law and the Prophets."
GROW– Self & Family
1 Peter 2:2 Like newborn infants, long for the pure spiritual milk, that by it you may grow up…
Heb 6:1 Therefore let us leave the elementary doctrine of Christ and go on to maturity…
Deut 6:6-9 6 And these words that I command you today shall be on your heart. 7 You shall teach them diligently to your children, and shall talk of them when you sit in your house, and when you walk by the way, and when you lie down, and when you rise. 8 You shall bind them as a sign on your hand, and they shall be as frontlets between your eyes. 9 You shall write them on the doorposts of your house and on your gates.
2 Tim 2:2 and what you have heard from me in the presence of many witnesses entrust to faithful men who will be able to teach others also.
GLOW– Be a Natural Light Making Disciples For Jesus Christ
Matt 5:16 In the same way, let your light so shine before others, so that they may see your good works and give glory to your father who is in heaven.
Matt 28:18-20 18 And Jesus came and said to them, "All authority in heaven and on earth has been given to me. 19 Go therefore and make disciples of all nations, baptizing them in the name of the Father and of the Son and of the Holy Spirit, 20 teaching them to observe all that I have commanded you. And behold, I am with you always, to the end of the age."
Acts 1:8 But you will receive power when the Holy Spirit has come upon you, and you will be my witnesses in Jerusalem and in all Judea and Samaria, and to the end of the earth."
How do we make that happen?
OUR STANDARD: God's Holy Word – Our goal for every believer is that they Love, Learn and Live the truths of God's Word. 2 Tim 2:15; 3:16,17; Matt 4:4; 1 Peter 1:24,25; Psalm 119:9-11
OUR PRAYER: That people in Mount Vernon and throughout the world will come to Love, Know, and Serve the Lord Jesus Christ.
OUR PURPOSE: Why We Exist as a Church – "We believe a great commitment to the great COMMANDMENT and the great COMMISSION will grow a great church!"
The Great Commandment: Matt 22:37-40 And he said to him, "You shall love the Lord your God with all your heart and with all your soul and with all your mind. 38 This is the great and first commandment. 39 And a second is like it: You shall love your neighbor as yourself. 40 On these two commandments depend all the Law and the Prophets." ESV
The Great Commission: Matt 28:19-20 Go…make disciples of all nations, baptizing them in the name of the Father and of the Son and of the Holy Spirit, 20 teaching them to observe all that I have commanded you… ESV
5 Church Purposes
To "Love God with all your heart" is "WORSHIP" Worship = expressing my love to God…by celebrating God's presence

John 4:23-24 But the hour is coming, and is now here, when the true worshipers will worship the Father in spirit and truth, for the Father is seeking such people to worship him. 24 God is, and those who worship him must worship in spirit (joy, outward expression of emotion toward God) and truth (We understand & respond to who God is…our mind is active)."

To "Love your neighbor as yourself" is "MINISTRY"

Ministry = Meeting needs with the love of God…by actively expressing God's love to others

John 13:35 By this all people will know that you are my disciples, if you have love for one another." also see 1 John 3:16-17, Matt. 25:34-40, Heb. 13:16, Rom. 12:13

To "Go…make disciples" is "MISSIONAL LIVING" Missional Living = Sharing the Good News with others…through word & deed
Eph 3:10 so that through the church the manifold wisdom of God might now be made known…ESV
To "Baptize…" is to "INCORPORATE INTO FELLOWSHIP" Fellowship = Committing my life to a community of believers…through active membership

Acts 2:41-42 41 So those who received his word were baptized, and there were added that day about three thousand souls. 42 And they devoted themselves to the apostles' teaching and fellowship, to the breaking of bread and the prayers. ESV

To "Teach them…all things" is "DISCIPLESHIP" Discipleship = Becoming a Fully Developing Follower of Christ…by educating God's people

Heb 6:1 Therefore let us leave the elementary doctrine of Christ and go on to maturity ESV

Eph 4:11-13 And he (God) gave the apostles, the prophets, the evangelists, the pastors and teachers, 12 to equip the saints for the work of ministry, for building up the body of Christ, 13 until we all attain to the unity of the faith and of the knowledge of the Son of God, to mature manhood, to the measure of the stature of the fullness of Christ… ESV
Church Ideals
Radical Hospitality – You are welcome just as you are – Mk 14:3-9
Fearless Conversations – Your thoughts and doubts are welcome – John 3:1-16
Genuine Humility – We are all in this together – Acts 4:32-37; Luke 5:1-8
Unmistakable Doctrine and Community – We are committed to God's Word and Fellowship – Acts 2:42-47
Divine Anticipation – God is here… ready to connect with me in a fresh way – Gen 28:10-19; Judges 6:11-24
Grateful Giving – We give in the manner God gave to us – John 3:16; Malachi 3:11; 2 Corinthians 9:7 & Luke 6:38
Missional Living – Our desire is to adopt the posture, thinking, behaviors and practices of a missionary in order to engage others with the gospel message – John 20:21; Luke 19:10; Matt 28:19-20
We can no longer just go to church … we must be the church.